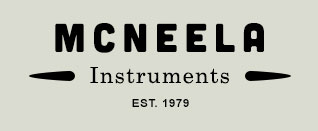 16" Tuneable Bodhrán
Paraic McNeela has been making bodhráns for nearly 40 years, it's not a hobby for him, it's a passion. He has developed this beautiful 16" Tuneable Bodhran, which produces a rich, deep tone.
Key Features: 
Produces a beautiful soft tone. 

Has a t-bar and arm cut-out for even more playing comfort.

Features McNeela's 6-point trademark tuning system with Allen key (included).

Has great quality goat skin. 

4.5" Rim depth.

Taped around the edges for a deeper tone.

Comes with a free hardwood bulbous beater and gig bag.
This isn't your average 16" tuneable bodhran, it produces a rich, deep tone and is non-intrusive when playing in sessions. It produces a beautiful soft tone that can't but sound great and bring any session together. 
It has a handcrafted four and a half inch rim. The rim has an added layer of wood which provides extra strength, especially while tuning. As it has a t-bar and a cut-out, it's more comfortable to play than others. The t-bar is also removable if preferred. 
This bodhrán features McNeela's trademark tuning system, this system allows the bodhrán reach its full potential and helps produce an unbeatable tone control and flexible volume, making it the perfect bodhrán to play in any and every situation. 
With its beautifully finished signature black frame and carefully treated goat skin, this is a bodhrán made for life. It also comes taped around the edges as standard for a deeper, richer tone. 
Comes with a free hardwood bulbous beater and gig bag.  
Goat Skin: 
The skin is the most important part of the bodhrán. That's why we only use the best goat skins. Our skins are sustainably sourced from healthy animals, carefully selected and examined for quality. They produce great depth of sound and are easy to tune.  We've done many blind tests and the results are staggering. Even non-bodhrán players can tell the difference between a good quality skin and a poor one - it's that obvious. Our skins are naturally hand-cured in lime, which gives that all-important bass tone, then 'pickled' to close up the pores and finally stretched and left to sun dry, achieving a lovely clean 'bleached' finish. 
"Whatever way Paraic cures them and treats them, I can get everything I want out of them. There's a lovely sound to the [McNeela goatskin]." Jim Woods 
For a great bodhrán text and CD tutorial, check out Steáfán Hannigan's tremendous Bodhrán Basics 
 Key Points: 
ESTIMATED SHIPPING TIMES:
USA & CANADA (5 - 7 days)
EUROPE (3 - 4 days)
UK (2 days)
IRELAND (Next Day)
THE REST OF THE WORLD (5 - 7 days)